| | | |
| --- | --- | --- |
| | Focus On Charcoal Briquette Machine With 21 Year | |
Briqutte Machine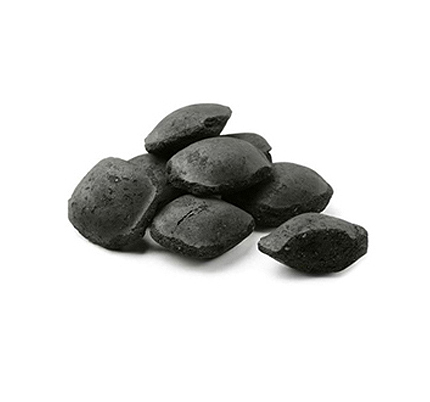 Introduction
We adopt the most advanced Italy technology, and the equipment can be customized according to your requirements. If you have any questions, please contact us!Briquetting machine is an ideal mechanical equipment designed for processing coal, mineral powder, FGD gypsum, etc. into briquettes. Through being made into round, pillow or oval briquettes, these wasted powder can be reused in various industries in order to increase additional value of mineral resources.
Application & Final Briquettes
Provide Customized Production According To Customers' DemandThe briquettes machine has a wide application in coal industry, metallurgy industry, chemical industry, etc.
Final Briquettes:
1. Shape: Round, pillow or oval.
2. Size: Changeable size between 25mm-60mm, made according to clients requests.
Feature
● The finished briquettes produced by Yuxi briquette machine are with high intensity, great convenience for transportation and various shapes.
● Custom-made shape is available.
● The briquettes made by briquette press machine can perfectly turn waste powder into useful briquettes used for metal smelting, etc. thus helping you make full use of mineral resources.
PROCESS FLOW
Provide Complete Sets Of Production Line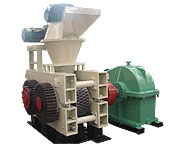 Introduction
Briquette machine
production line can be used to compact bulk coal materials such as coal slime, coal ash, etc. which are dried to a certain degree into coal briquette, coke briquette and various carbon products, smelting and using directly; It also can use the iron powder to briquet iron sponge and various mineral powder.
Widely used in metallurgy, mining, coal, refractories, abrasives, fertilizers, ceramics and other industries.
Feature
● Environmental protection and energy saving, high-yield, high efficiency and low consumption;
● Reliable performance, easy maintenance, less investment, significant economic benefits;
● Less labor, with significant decline in wage costs;
● The main equipment is with fast speed, easy to operate, large output;
● The production line can produce coal briquette, coke briquette and other special-shaped products, diameter within the range of Φ85-150mm.
Model
Press Roll Size

(mm)

Main Spindle Speed

(r/min)

Motor Model
Motor Power

(kw)

Capacity

(t/h)

Dimension

(m)

YX-290-2
290×200
12-15
Y132M-4
5.5-7.5
1-3
1.6×1.2×1.4
YX- 360-2
360×250
12-15
Y132M-4
7.5-11
3-5
2.1×1.3×1.76
YX- 430-2
430×250
12-15
Y132M-4
15-18.5
4-7
2.3×1.53×1.9
YX- 500-2
500×300
12-15
Y160L-4
22-30
5-10
2.6×1.75×2.1
YX- 650-2
650×350
10-13
Y180L-4
37-55
8-13
3.42×2×2.2

YX- 750-2
750×380
10-13
Y200L-4
45-75
12-17
3.7×2.55×2.6
YX- 850-2
850×460
10-13
Y200L-4
75-110
15-20
3.9×2.6×2.7
YX- 1000-2
1000×530
10-13
Y200L-4
110-132
20-30
4×2.8×2.8

               According to the different proportion of material, the motor size and output size will be different.