| | | |
| --- | --- | --- |
| | Focus On Charcoal Briquette Machine With 21 Year | |
Carbonization Furnace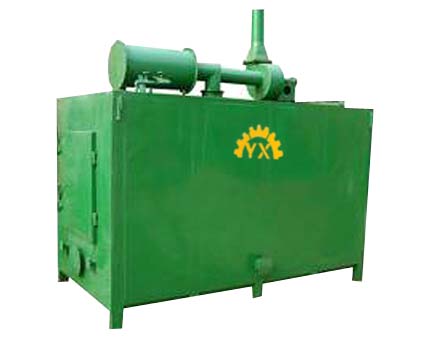 Introduction
We adopt the most advanced Italy technology, and the equipment can be customized according to your requirements. If you have any questions, please contact us! The gas flow type carbonization furnace adopted advanced hot air carbonizing processing technology, which greatly increased carbonizing ratio (increased from about 88% to 99%) and shortened the carbonizing time (from 24 hours to 6 hours). It has the features of easy operation, higher safety, high efficiency, energy saving and environment protection.
Usage
Provide Customized Production According To Customers' DemandCarbonization furnace is used for the destructive distillation and oxygen-free carbonization of sawdust, rice husks, peanut shells, plant straw, bark, wood and other carbon-containing materials (granular material with the volume less than 15mm), under high temperature in the furnace.
Features
● The furnace is equipped with high temperature hyperploids stream cooling system, and the cooling process can be accelerated to speed up the period of the production.
● The carbonization furnace adopts the structure of unique air storage chamber, which can fully reuse the smoke produced during the carbonization process.
● 60% of the redundant smoke can be used in drying and carbonizing, saving much fuel during the whole process and increasing the enterprise revenue.
PROCESS FLOW
Provide Complete Sets Of Production Line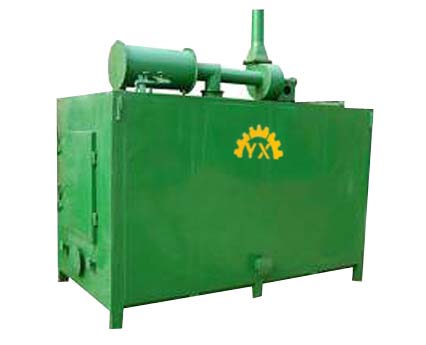 Unit of equipment includes:
1, gasification system (gasifier, spray tower, ESP);
2, purification system (spray tower, oil-water separators, filters);
3, carbonization system (charring host, screw feeder, screw unloading equipment, cooling discharging machine, conveyor, finished product cooling warehouse);
4, control system (control cabinet).
Advantages of
charcoal furnace
● The host has huge volume, high charring rate, strong production capacity of 0.5-2 tons per hour;
● Low cost, low investment, strong practicality, to meet the investment requirements of the early entrepreneurs.
● Make full use of agricultural and forestry residues, in order to turn waste into treasure, reducing forestry resources and making more contributions to the green environment.
| | | | | |
| --- | --- | --- | --- | --- |
| Model | Capacity(kg/h) | Power(kg) | Driving Motor | Weight(t) |
| 1.2×8m | 700-800 | 18.5 | frequency conversion | 9 |
| 1.0×12m | 900 | 18.5 | frequency conversion | 10 |
| 1.5×12m | 1000 | 18.5 | frequency conversion | 11 |