| | | |
| --- | --- | --- |
| | Focus On Charcoal Briquette Machine With 21 Year | |
Coal Briqutte Machine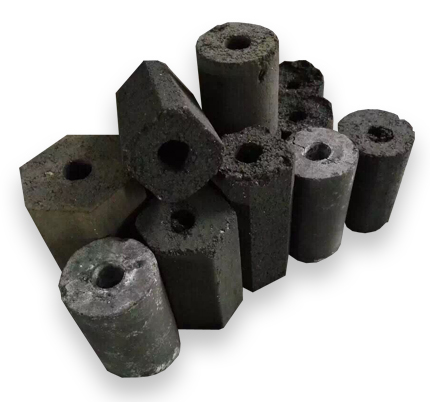 Introduction
We adopt the most advanced Italy technology, and the equipment can be customized according to your requirements. If you have any questions, please contact us!Coal briquette machine uses the principle of screw extrusion, compressing the prepared coal powder into a predetermined top-quality coal rods briquetting with high strength & density, widely used for handing various powder into coal rods briquetting. The produced hallow coal bars briquettes have a large surface area, good ventilation, sufficient combustion performance.
User Benefits
Provide Customized Production According To Customers' Demand√Buying coal briquetting plant not only saves production costs (you can use cheap coal power instead of expensive big coal bulk ), but also minimizes the pollution caused by coal powder burning.
√During the briquetting process, no require lime, reducing the fuel cost, improving the calorific value of coal stick, high economic efficiency.
√Coal briquette press machine has a small volume, no need charcoal making machine, no steam device, reduces floor are and cost.
Feature
√Using hardened tooth-surface reducer, small size, high load capacity.
√Internal impeller of coal powder briquette machine adopts thickened design, its inner liner and cylinder body all made of wear-resistant caste material, increased 4-5 times than ordinary materials.
√Discharging port is made of replaceable wear-resistant alloy steel, easy to replace.
PROCESS FLOW
Provide Complete Sets Of Production Line
Introduction
Since the
coal briquette machine
 has certain requirements on the particle size, moisture content of the material and material ratio, and the mixed material must also have good plasticity. The molding process of coal briquette machine production line should include crushing, sieving, mixing, kneading, humidifying and other processes.
Technical Advantage
Use coal briquetting plant to produce coal rods can make full use of pulverized coal, it does not require to add lime in the process of production line, reducing the cost of fuel, and improving the calorific value of coal, with high economic efficiency. Besides, the devices are small, need no carbonized drying equipment, no steam, in order to reduce investment and covering area.
Model
YX-140
YX-180
YX-300
YX-450
Capacity(t/h)
1-2
2-3
3-5
8-12
Power(kw)
11
22
90
220
Section dimension(mm)
Ф20-30
Ф20-30
Ф18-30
Ф20-30
Rotation Rate(rpm)
60
60
132
132
Spiral Impeller Diameter(mm)
Ф120
Ф160
Ф270
Ф420
Number Of Helical Blade
5
5
4
4
Dimension(mm)
1900×1100×1170
2210×1370×1440
3605×1025×955
5130×1520×1480
Powder Coal Granularity(mm)
<3