Sawdust Making Machine-Good Helper in Agriculture
The sawdust made by the sawdust making machine has a wide range of uses, which can be used to cultivate edible fungi, produce high-density boards, and make paper. The newly improved sawdust maker machine makes full use of the principles of impact, shearing, and rolling.
From the crushing principle, the softer the material, the harder it is to crush, such as fibrous materials like thatch and bamboo. The internal crushing process of the improved sawdust and wood powder machine is rotary cutting, which is specially designed for processing of fibrous soft materials. Yuxi wood sawdust making machine is with high production efficiency, large crushing capacity and long continuous working time. Its self-carrying cooling system can ensure that the machine runs for a long time, avoiding downtime due to damage to parts caused by heat.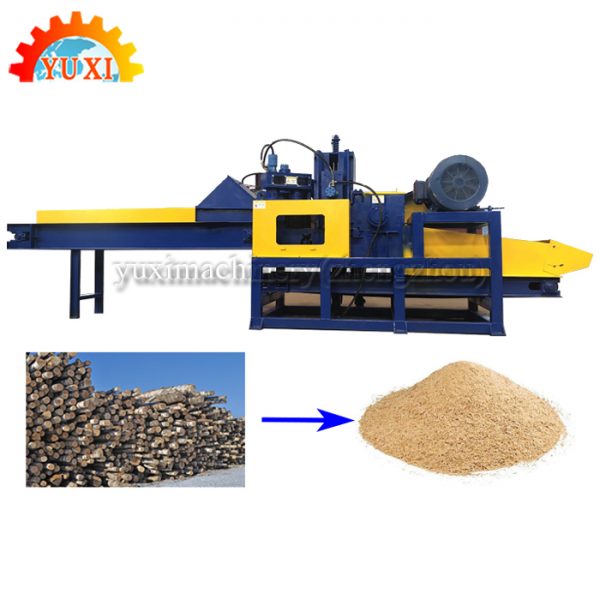 Sawdust making machine is an advanced fine crushing equipment. This series of equipment is carefully developed on the basis of absorbing the advantages of various sawdust machines and making full use of the theory of impact, shearing, and grinding.
Yuxi wood sawdust making machine can process all kinds of wood, wood scraps, branches and forks, wood chips, shavings, bark, bamboo, bamboo bark and other raw materials into sawdust and wood filament products at one time, which has the advantages of low investment, low energy consumption and high productivity, high efficiency, good economic benefits, convenient use and maintenance, etc. The pulverized wood chips have the advantages of small particle size, obvious wood fiber, and uniform discharge.
The saw dust maker is driven by only one motor, with simple structure, compact layout, low price, stable work, low energy consumption, high output, and finished wood chips. It can also be used for cutting fibrous stalk-like materials such as bamboo, thatch, corn stalk, and sorghum stalk.